"The world needs strong women. Women who will lift and build others, who will love and be loved. Women who live bravely, both tender and fierce. Women of indomitable will." — Amy Tenney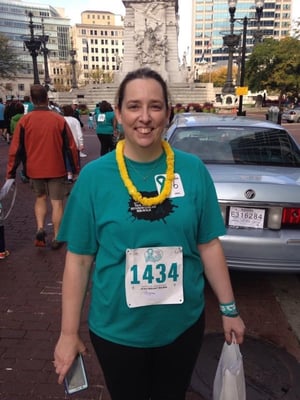 When Amy Gooding joined the Haggard & Stocking team in 2006, she came to our accounting department as a fresh newlywed with a passion for details and helping others. Her bright, bubbly personality was a contagious force of positivity. Her life was forever changed in 2008 when she received her diagnosis of ovarian cancer.
When she tells her story, she is quick to mention how lucky she is to have been diagnosed early, as many women find out too late, often with Stage 3/4 cancer. Her passion to improve this statistic led her to volunteer for the annual run/walk fundraiser and the following year, she became the event lead through Ovar'coming Together, Indiana's ovarian cancer support nonprofit organization. The organization facilitates educational and support opportunities all over the state, including creating awareness through outreach to the community and medical professionals, supporting survivors, caregivers, and families, and funding research through special events and walks. In 2010, Amy decided to join the board of Ovar'coming Together and continued her outreach work there for 6 years, including 2 years as the treasurer. Her coworkers at Haggard & Stocking recall even as Amy received her diagnosis and treatment, her spirit never wavered from her commitment to supporting others, and after her recovery, her uplifting attitude continued to inspire those around her.
While Amy's ovarian cancer diagnosis prevented her from having biological children, in 2015 she and her husband began the work of opening their home to foster children, receiving their first placement of a 1-year-old boy in November of that year. Amy says that it's been such a joy to be able to love and care for him, and watch him continue to grow and thrive. Even though he went back to his biological family for a few months, when he, along with his older brother, came back to their home early in 2019, her nurturing heart continues to believe they will find their forever home.
Haggard & Stocking has been truly blessed to have Amy's positive energy and generous spirit as part of the accounting, airlines service, and now our e-commerce support team. We are grateful for her enthusiasm in providing customer-centered solutions and continue to wish her well on her personal journey!
September is Ovarian Cancer Awareness Month. To learn more about ovarian cancer, visit http://www.ovariancancerin.org