Millennials have been scrutinized, analyzed, and talked about more than any other topic in the manufacturing industry. With all of the research and analysis, it still feels like we millennials are "unicorns" in the industry. It does not have to be like this at all! Haggard & Stocking is a family-owned independent company with a very open and honest environment where opinions can be heard and anyone can leave their mark on our organization.

The culture that exists at Haggard & Stocking could not make me more proud. This is why when I hear that manufacturing and young professionals do not mix, I get incredibly frustrated. According to Industry Week, millennials are looking for organizations that value their feedback, opinions and process improvement recommendations. I cannot think of an organization that fits this bill more closely than Haggard & Stocking. If ever there was an attractive landing spot for millennials it is here at H&S.


Additionally, the H&S environment is not only well suited for millennials, but our industry demands a fresh perspective. Our industry is always changing, and as the old saying goes, "Adapt or die." Again from Industry Week, they point out that millennial leaders tend to challenge accepted practices and processes. This generation thrives and excels at asking questions and suggesting viable improvements to the status quo. There is no better trait than this when working in an environment where one must adapt to constant change. Just take a moment to breeze through some of the major issues we face as a company below.

• Growing E-Commerce Demand from Manufacturers for Industrial goods and services.
• Big Box Acquisitions of other independent distributors to penetrate and convert business.
• Supplier consolidation initiatives aimed at reducing preferred vendors and identifying key partners.
• Less face time with end-users due to purchasing agents' growth in duties as well as work from home.



These issues all depict the changes that are taking place in our marketplace. Our industry is changing rapidly, and now more than ever, we need a team that will look at our current way of doing things, and think of how we can alter them to best fit the marketplace. These issues require creative, innovative and often groundbreaking solutions. The only way to come up with answers for these is for us to question our status quo and do what we can in order adapt our processes to best suit the needs of our customers.


This is by no means me saying that we should only hire millennials and completely abandon all of our current standard procedures. There are a lot of things that make us successful in our every day efforts. "Adapt" does not mean to abandon what got you here. It means to take what worked for us in the past and pair it with new ideas to best maintain and grow our presence in the manufacturing world. Millennial or not, we all need to be asking ourselves if we are currently doing things the best way for our customers, the marketplace, and Haggard & Stocking.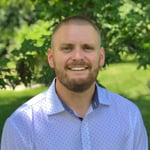 Matt Haggard, Indianapolis Sales Manager
Matt Haggard is the third generation of Haggard leading our company, joining the sales team in 2016 and becoming the Indianapolis Sales Manager in 2019. He is committed to preparing H&S for the future through technical educational development and expanded services.