Alex Golden loves the Indiana Pacers more than you.
No, seriously.

If you don't already know Alex yet, he joined the Haggard & Stocking team in 2015 as a delivery driver. After a few years, he shifted roles and took over as the delivery driver for the Honda account. He spends the majority of his time there, but also serves as the backup shipper in the warehouse when he returns from his deliveries. Most importantly, he is responsible for loading and stocking the Indy Office's pop machine!
As a lifelong Indianapolis resident, Alex grew up watching local sports and playing basketball for his high school teams. Upon his graduation, he continued to support his alma mater as the junior varsity head coach and varsity assistant coach for the school over the last 9 years. Alex says, "I've always been a fan of the hometown teams, and the Pacers were the team I gravitated to the most. Reggie Miller was a player the entire city adored, and he captivated my attention early on in my childhood."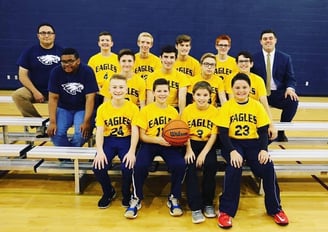 While serving as a sports announcer for the high school home games, Alex found that he loved to spread his enthusiasm for the game. He started writing blog posts and hosting podcasts, and joined the social media excitement by providing commentary on Twitter. He even worked for a while at a company called The Grueling Truth as their lead NBA writer. "I loved what I was doing, but I wanted to give my focus solely to the Pacers. I met some great people via social media, and reached out to them in 2018 about starting a Pacers Podcast," Alex recalls.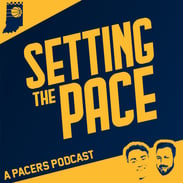 And so it began! In September of 2018, Alex and his fellow Pacers fanatic friends launched their first podcast episode of Setting The Pace, kicking off with a recap of the Pacers Preseason Media Night. "We got off to a slow start, but we knew that consistency was key," Alex reflects. In June of 2019, Alex launched his website, www.pacerstalk.net , which provides game previews and recaps, as well as a variety of insights and in-depth analysis on players, coaching, and strategy. Even though his original concept had Alex as the sole writer and host for his productions, Alex's ardor and contagious energy on social media drew in his co-hosts and writing staff from across the country. "We don't make any money off of our show or website, but our passion for the Pacers motivates us to provide the best Pacers content."
Since it's inception just a few months ago, Alex's podcast has already brought him a great deal of local recognition. "The most exciting part of the podcast has been the incredible opportunities it's provided," he notes. "Personally, it allowed me to appear on a local sports radio show, the Dan Dakich show, twice. In addition to that, we've been able to land some great former Pacers — most notably, Ron Artest, Jermaine O'Neal, and Al Jefferson."
Alex continues to see his hard work and dedication to pay off this season, too. "Our statistics have improved 300% from last season to this season, in terms of listeners and subscribers to our podcast. Things appear to be trending in the right direction for the growth of our show and website." So, where does he see all this heading in the future? "If our website and podcast became nationally known, and we could grow our brand into something special, that would be a dream come true."
We couldn't agree more, Alex! Go Pacers!