JEFF HAGGARD ASCENDS TO HAGGARD & STOCKING, ASSOC. PRESIDENT; MATT HAGGARD NAMED INDIANAPOLIS INDUSTRIAL SALES MANAGER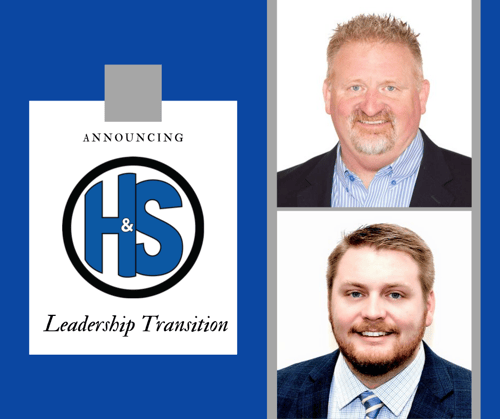 Former Industrial Sales Vice President Jeffrey S. Haggard succeeds his father and founder of Haggard & Stocking, Associates, Herbert C. Haggard, to President of the company and its subsidiaries, while Matthew Haggard is promoted from Territory Manager to Indianapolis Industrial Sales Manager. Herb Haggard retains his title and role of CEO, continuing to guide the vision of Haggard & Stocking and utilizing his expertise in the financial and legal operations within the company.
For partners and employees of Haggard & Stocking, this transition of leadership is recognized as both inevitable and welcome, as it has been a generation in the making. In many ways, Jeff has already assumed his role of managing and growing the relationships that Haggard & Stocking is most proud of, with their array of vendors and supplier networks, as well as supporting growth both in breadth and depth of service to our customers.
"We are going to be stressing Education and Communication as we work to bring this organization into the future. We want to maintain a level of a small hometown feel while bringing a big box service levels," says Jeff. "We need to be working together and all within the same procedures and systems."
Additionally, Matt Haggard's ascension to Indianapolis Industrial Sales Manager continues the family legacy of providing the highest level of service and technological expertise that Haggard & Stocking's customers have come to depend on. His role will be to lead the sales team as a visionary authority who has grown up in the business of technical sales and unparalleled service.
As CEO, Herb Haggard will still have a very active role in the company but with the well earned flexibility to take the time to enjoy what he has built. Those who have come to know Herb over the years, recognize his passion for the growth and merit of Haggard & Stocking, and Herb will be an active player of that manifestation for some time to come.
"This management restructuring will provide Jeff with … the opportunity to move the company into the future, with a focus on growth strategies," says Herb says in a company-wide memo.
Additional leadership changes include the promotion of Jim Slaymon to Chief Information Officer and the promotion of Brooks Bemis to Division Manager. Jim will continue in the role of head of our I.T. department, and this title reflects the large responsibility of a wide array of Information Services that his team provides. Brooks, as Division Manager, will be leading the Safety, Fasteners, and Material Handling Divisions, as well as have chief responsibility for our Imperial Fastener location in Evansville.